The popular sport of Cross Country Skiing is a much loved winter activity in the Lungau. With over 150km of trails stretching through the valley you can get away from the tourist spots into fresh mountain air and valley fields blanketed in deep snow.

In addition to the valley routes, high altitude trails in Schönfeld Thomatal, on the Karneralm, Prebersee, Mariapfarr-Lignitz and the Petersbründlloipe guarantee excellent snow conditions well into the months of Spring.

As well as carefully prepared and maintained cross country trails, enthusiasts can also enjoy around 80km dedicated skating track.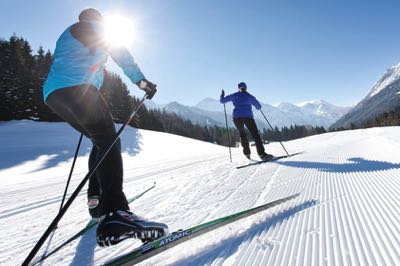 All cross country trails are easily accessible by ski bus or car and some of the local routes can be reached within a few minutes walk.

In order to use the trails you must purchase a pass, called a Trail Pin. The Trail Pin is available to buy at the Tourist Office and can be purchased for a day, 7 days or a for the season. A fourth option, the Cross-Country Combo Pass, provides a 7 day ticket and includes free use of the public transport. The Combo Pass can also be bought directly from the bus driver on all bus lines!

Note that if you have a valid alpine ski pass, use of the ski bus is already free.

Cross Country Trail Rules
Every Cross Country Skier must behave in a way that does not endanger or injure others.
Pay attention to markings and follow the stipulated trail directions.
Every double track is treated as a single unit! Keep right! (even if several trails occasionally run side by side).
Pass on the left. The front skier doesn't have to get out of the way!
When encountering other skiers, keep poles close to your body.
Groups: ski in a row in the right hand track.
Avoid oncoming traffic by staying to the right, those going downhill have right of way over those going uphill.
Speed - mainly skiing downhill - should be adjusted according to skill, terrain, visibility and number of people on the trail.
If you stop on the trail or fall, be sure to immediately clear the trail.
If there is an accident, everyone is obliged to help!
Those involved in an accident are required to provide identification.
Don't stray from the designated trails!