"Your apartment is wonderful and very, very comfortable, we love it!"
Price
Enquire
Enquiry Form
If you would prefer please email us directly with your enquiry or, if you would like to book immediately, please use the Boook Now option.
APARTMENT SPEIERECK
1-8 people 110 sq.m
A large and beautifully fitted apartment located on the first floor of Haus Bellevue.
The spacious accommodation is very well-appointed and thoughtfully furnished with many home comforts to support and easy vacation.
Guests of Apartment Speiereck can enjoy their own private south-facing balcony, furnished for outdoor dining and providing panoramic mountain views.
Heating is provided throughout by very attractive and effective marble radiators. The temperature of each room can be controlled individually by a thermostat and set to suit the requirements of every guest.
Apartment Speiereck will comfortably cater for up to 8 people. Keep scrolling down for further details, photographs and layout...
It is often difficult to get an accurate impression of an accommodation through single photographs. We have therefore provided pictures from different perspectives where appropriate, and detailed floor plans to help give an overall image of the size and layout of the the Apartment.
Click any image to view.
Living Room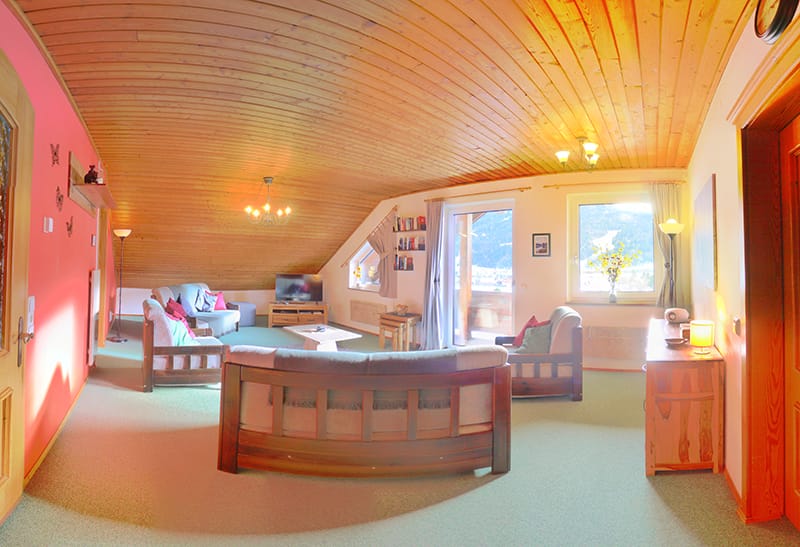 The living room is very spacious and fitted with two solid 2-3 person sofas, 2 matching arm chairs, a good sized foot stool, a nest of side tables, a lovely rosewood sideboard and tv-board all arranged around an attractive marble coffee table. The area is wonderfully bright with large south-facing windows and access door to the balcony, through which spectacular mountain views can be enjoyed.
The room is equipped with a Flat Screen TV, DVD player, radio/CD player and a USB charging station, also board games, playing cards and books. Wifi connection is free and available throughout the property.
View a 360° interactive tour of the living accommodation

Balcony and Outdoor Living

Each apartment is equipped with it's own outdoor living area. Guests of Apartment Speiereck can enjoy exclusive use of a private balcony furnished with 4 cafe-stlyle tables and 8 matching chairs.

The balcony can be accessed from both the living area and the master bedroom. Suitable seat cushions are provided for you. Sun loungers are also at your personal disposal.

An attractive and important feature of this apartment, the south-facing balcony provides an idyllic and peaceful area to relax and enjoy the wonderful panoramic mountain views.
---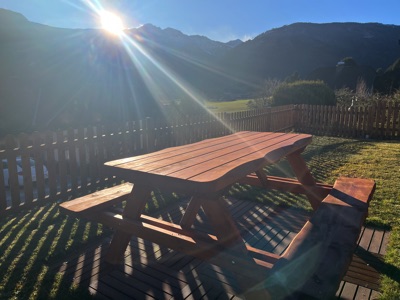 Grilling is not permitted on the balcony. However during the summer months a further garden area is offered for your own use, equipped with a table and benches for the purpose of outdoor dining and grilling.

A kettle grill is free to use at any time and can be found in the same location. Grill tools and a cleaning brush are provided.

A garden bench set in a sunny position in the same location is also intended for your own personal enjoyment.

Winter BBQ must be booked in advance of arrival
Kitchen and Dining Room

The Kitchen is very well-equipped to meet self-catering needs, furnished with a nice kitchen range including a good selection of cupboards, drawers and shelves. The spacious dining area is fitted with a sizeable dining table and a combination of chairs and bench seating.
The sunny room features an attractive Skylight offering a tree-top view of the valley beyond the grounds of Haus Bellevue.
The kitchen and dining room is accessible through a connecting door from the living room.
You can expect to find the following (and more):
Teatowel and hand towel
Washing up liquid and cleaning products
Washing sponge, cloth and brush
Dishwasher
Microwave
Fridge/Freezer
Toaster
Kettle
Filter coffee machine (filters provided)
French Coffee Press
Electric oven with grill

4-ring electric hob

Extractor fan

Cups, saucers, plates, dishes, serving dishes, egg cups

A selection of glasses

Pots, frying pans, oven trays, selection of lids

Storage bowls and microwavable bowls

Egg pricker

Selection of sharp knives

Vegetable peeler

Chopping boards

Oven glove

Colander and Sieve

Mixing bowl

Rolling pin

Measuring jug and scales

Tea pot

Generous amount of cutlery

Large selection of cooking utensils

Sugar, salt and pepper pots (not including contents)

Bottle openers

Bread basket

Bins and bin bags

Step Stool

Family Bedrooms
Apartment Speiereck features two sizeable family bedrooms, each catering for up to 4 people. Both bedrooms have their own entrances and also a connecting door which can be locked upon request.
Master Bedroom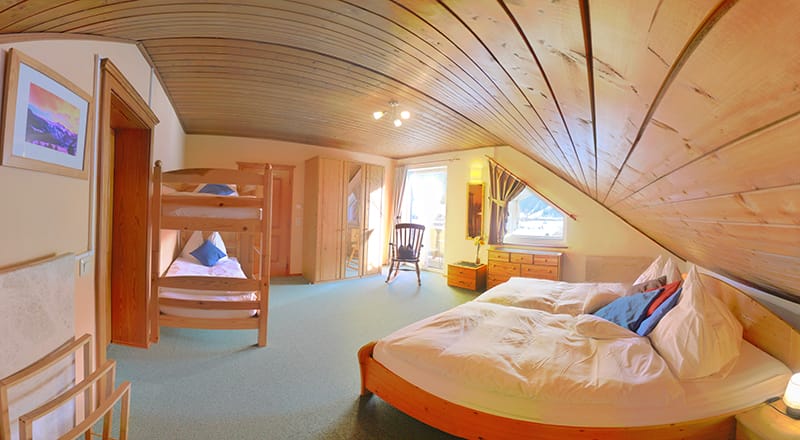 The spacious Master Bedroom is furnished with a king sized bed and matching bunk beds or solid pine construction. The king sized bed is 200cmx200cm and fitted with 2 mattresses - suitable for a couple or for 2 people sharing. The bunk beds are equipped with firm mattresses and for use by adults as well as children.
A 3-door wardrobe provides plenty of hanging room with lots of deep shelving. A good selection of drawer sets and bedside units ensure that guests have plenty of storage space. The Master Bedroom also has access to the balcony.
---
Family Bedroom

The second family bedroom is also of a good size and similarly furnished with king sized bed and 2 single beds. A 2-door wardrobe (not depicted) with clothes rail and deep shelving provides ample room for clothing. An additional choice of drawers, bedside units and cupboards ensures that guests are not lacking in storage space.

Bathroom and WC
Apartment Speiereck boasts two well-appointed bathrooms with a sum of two showers and two WCs. The facilities have been designed with Guests' comfort in mind and with a selection of rails and ample shelving, provide plenty of places to hang towels and place toiletries.
Main Bathroom

The main bathroom is furnished with a corner shower, WC, wash basin with large brightly lit mirror and a hair dryer.
---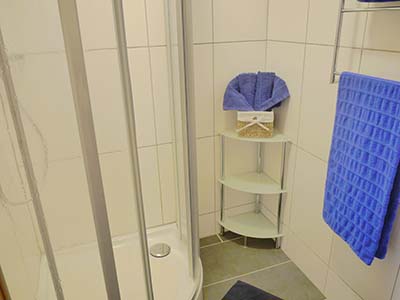 Shower Room
The second smaller bathroom has a corner shower and also features a good sized mirror.

An additional separate WC ic conveniently located in the entrance area to the apartment.
Entrance, Hallway and Guest-WC
The entrance to the apartment is at ground level where guests can enjoy the use of their own purpose built walking boot/ ski boot racks, a shoe rack and a place to hang coats.

---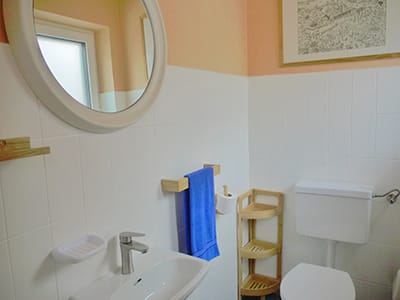 Guest WC
The additional Guest-WC is conveniently located in the entrance area.
---
Hallway

The Apartment living accommodations are located up a short flight of stairs. All areas are joined by a spacious hallway where a generous number of coat hooks and an additional shoe rack can be found. The hallway area has a strong iron gate which serves as a child-protection-barrier for the stairway.
Garden and Grounds

Guests of each apartment can enjoy their own outdoor living area.

The ground floor accommodation is accompanied by a private patio area furnished with table and chairs or benches and with additional own garden bench.

The largest apartment has a private furnished balcony and during the summer, a further garden space located to the rear of the house. The area is equipped with a garden table and benches for outdoor dining and grilling. An additional garden bench in a sunny position can alrea be found in this location.

Sun loungers and suitable seat cushions, also a BBQ accompany each apartment and are at your personal disposal.

The outdoor living areas all feature a southerly, sunny aspect with panoramic mountain backdrop.

The open garden and general grounds are flor the shared enjoyment of all guests. A purpose built play area with swing and climbing frame is provided for your children's pleasure.